Expo Center
Inviting quality. Welcome pricing. Make every event a great experience.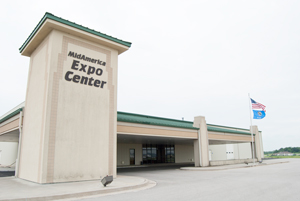 From small gatherings to crowds of hundreds, from seminars to sit-down dinners, presentations to parties, reunions, receptions, conventions—whatever the group or gathering, the MidAmerica Expo Center sets the stage for success with first-class facilities and affordable, flexible service.

A special event for guests that's easier for event planners, high quality plus affordable prices—the MidAmerica Expo Center puts together the perfect combination for your perfect get-together with:

Three seminar rooms, available individually or as a group, sized for success in hosting smaller gatherings:

37' x 49'
46' x 49'
59' x 42'

Expo Hall, featuring 100' x 100' prime exposition space. With its 24' ceiling and oversized doors, the Expo Hall is an impressive setting that allows convenient setup.
163-space lighted parking lot; adjacent field parking also available.
Kitchen facilities, including oven, refrigerator and sinks, for catering use.
State-of-the-art sound system throughout the building.
Flexible pricing and services, from basic room rental to turnkey services that include tables, chairs, janitorial support.
​
Located at:
725 Webb St
Chouteau, OK 74337
Getting together? We've got it all together at the MidAmerica Expo. To see a floor plan, or for more information and directions, please click on one of the corresponding PDFs under Related Documents.
Southern Business & Development Magazine selected MidAmerica as one of the Top 10 Sites in the South that Can Accommodate Any Project.
Google Plans to Expand Data Center in Oklahoma
Google is planning to open another four-story data center in Oklahoma, bringing the company's total investment in the state to at least $2.5 billion. The company recently announced plans…
MidAmerica's Recent and Future Developments Prepare for Industry 4.0
MidAmerica Industrial Park is investing $18.5 million in infrastructure improvements to ensure the property is ready for new businesses. Officials at MidAmerica are preparing for the opportunities America's fourth…