Overview
Powerful global advantages through unique operation and focus.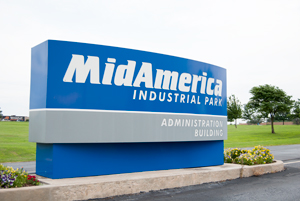 Established in 1960 to support area employment, MidAmerica has grown into a premiere global industrial center for manufacturing, distribution and processing. Today over 80 companies are thriving here through competitive and cost advantages including:

Speed to market: MidAmerica is located in the geographic center of the U.S., just 40 miles east of Tulsa. Our location is also near "America's Crossroads" where I-35, I-40 and I-44 intersect, allowing next-day delivery to 23% of the U.S. population. Multi-modal transportation options—highway, rail, waterway and air—also provide easy global access.

Streamlined start-ups: At 9,000 acres, MidAmerica can accommodate virtually any footprint need, with shovel-ready sites ranging from small parcels to large sites. And because the park is owned and operated by a public trust, red tape and fees are eliminated. Your construction can be underway within a matter of days, accelerating your cash flows as you build on the solid foundation of a park with the financial strength to construct and finance most any size facility.

A right-to-work, ready-to-work labor pool: MidAmerica's workforce is another key advantage, drawn from a population of over 927,900 within a 40-mile radius, team and tech skills honed through no-cost custom training provided on-site. Low labor costs and high production quality—Advantage MidAmerica!

High-capacity utilities, 20-70% savings: The park-owned water system provides some of the lowest water costs in the U.S. along with ample storage and peaking capacity. The park-owned wastewater system also provides some of the lowest rates in the U.S. Also advantageous: The park is the holder of the NPDES permit. Dual-fed electricity is supplied at wholesale rates with abundant on-site generation including a coal-fired complex and two combined cycle natural gas fired plants; two 16" high-pressure natural gas lines add additional choice and cost efficiency. There are also two transmission and five distribution substations serving the park.

Designated a "Certified Industrial Park" by the Oklahoma Department of Commerce, MidAmerica offers a range of advantages.
At 9,000 acres, MidAmerica is one of the nation's largest industrial parks, strategically located at a northeast Oklahoma crossroads.
MidAmerica Industrial Park provides $1.4 billion economic impact annually
MidAmerica Industrial Park provides a $1.4 billion economic impact annually according to a report compiled by the Tulsa Regional Chamber. Officials at MidAmerica recently completed the 2016 impact study…
MidAmerica Industrial Park announces $1.2 million STEM investment in area school districts
PRYOR — MidAmerica Industrial Park on Monday announced a $1.2 million investment in STEM labs — science, technology, engineering and math — and career centers in all five Mayes…