Recreation
The great Green experience.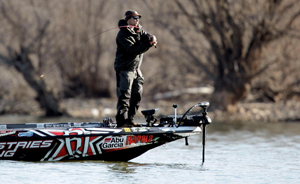 Wonderful water: Whether you're soaking up the scenery—the spectacular bluffs of the Illinois River, for example, or the magnificent 77-foot waterfalls of Natural Falls State Park—or diving into expansive lake recreation, Green Country always has "liquid assets" to explore and enjoy. Less than 50 miles from more then 2,500 miles of lakeshore, the MidAmerica location is favored by anglers, skiers, sailors and nature lovers, with Lake Hudson only 10 minutes away and four other lakes within a 30-minute drive, including Fort Gibson, Spavinaw, Eucha, and Grand Lake O' the Cherokees.

Suburban recreation: What many consider to be one of the state's top municipal golf courses lays out its 18-hole challenge only two miles from MidAmerica, while the Pryor Creek Nature Trail is a great place for hiking, mountain biking, walking or jogging. The annual fall bike tour, beginning and ending in Pryor, is one of the state's most scenic.

State Parks: Fourteen state parks in Green Country unfold adventures of all kinds, from boating and fishing to golf to overnight stays in comfortable lodges.
MidAmerica Industrial Park has an on-site regional business jet airport with 24 hour self-service fueling stations.
Google Plans to Expand Data Center in Oklahoma
Google is planning to open another four-story data center in Oklahoma, bringing the company's total investment in the state to at least $2.5 billion. The company recently announced plans…
MidAmerica's Recent and Future Developments Prepare for Industry 4.0
MidAmerica Industrial Park is investing $18.5 million in infrastructure improvements to ensure the property is ready for new businesses. Officials at MidAmerica are preparing for the opportunities America's fourth…