Tulsa
Comfortably cosmopolitan.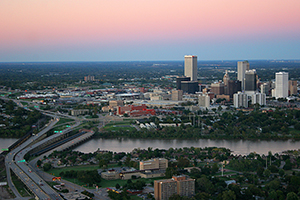 The city called "comfortably cosmopolitan" boasts a history older than Oklahoma, and since the very beginning, Tulsa has been a city that knows how to live well. Today, Tulsa's rich fusion of history and culture, combined with an up-to-the-minute metro allure, makes this Western gem an endlessly renewable resource for dining, shopping and entertainment. From the gorgeous Art Deco skyline to the boot-scooting dance floor of historic Cain's ballroom, from upscale sushi bars to down home barbecue joints, from the nation's 18th oldest opera company to the Tulsa Shocks women's NBA team (the newest addition to the city's fast-growing sports scene), Tulsa rolls out a nonstop welcome. And remember, the city also known as "The Birthplace of Route 66" is less than 40 minutes from MidAmerica.

A few highlights:

Tulsa International Airport
The Tulsa International Airport and R.L. Jones, Jr. Airport provide critical infrastructure to support the air transportation needs of the Tulsa community. More

Dining and Shopping: The restaurant scene offers plenty to savor—Downtown, at Expo Square, 71st Street Restaurant Row, and at Brookside, Cherry Street and Utica Square. Shopping adventures are also found all over the city, whether antique hunting on Cherry Street or luxury browsing at Utica Square—and then there's the sweeping retail expanse of 71st Street.

Arts: Offerings include ballet; two symphonies; opera and multiple museums, including Philbrook, recognized as one of America's Top 65 art museums, and the Gilcrease, a spectacular 160-acre complex housing the world's largest and most comprehensive collections of art of the American West. The festivals are year-round, including Oktoberfest, hailed by USA Today as one of the world's Top Ten Oktoberfest celebrations.

Sports: Enjoy pro sports across the spectrum--Tulsa Drillers baseball the new baseball stadium in the heart of downtown, Tulsa Oilers hockey, and the new Tulsa Shocks WNBA basketball team. College teams including University of Tulsa and Oral Roberts University draw excitement, too. Tulsa is also horse heaven, home to some of the nation's finest equestrian facilities.
Southern Business & Development Magazine selected MidAmerica as one of the Top 10 Sites in the South that Can Accommodate Any Project.
Google Plans to Expand Data Center in Oklahoma
Google is planning to open another four-story data center in Oklahoma, bringing the company's total investment in the state to at least $2.5 billion. The company recently announced plans…
MidAmerica's Recent and Future Developments Prepare for Industry 4.0
MidAmerica Industrial Park is investing $18.5 million in infrastructure improvements to ensure the property is ready for new businesses. Officials at MidAmerica are preparing for the opportunities America's fourth…