Oklahoma State University Institute of Technology (OSUIT)
Advanced skills for advanced manufacturing.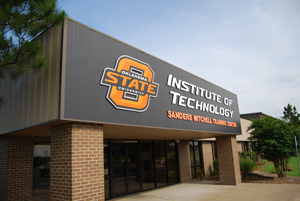 Whether keeping pace on production lines or keeping equipment performing at peak levels, today's global manufacturing teams must meet an ever-higher standard of technological knowledge and skills. Helping them meet and exceed that standard is OSU's Institute of Technology (OSUIT).
A critical advanced manufacturing training resource for Northeast Oklahoma, OSUIT offers college-accredited courses that lead to an Associate of Applied Science degree through classes featuring low student-to-teacher ratios. OSUIT also provides custom training for industry employers across a range of areas, from ISO standards to Geometric Machining and Tolerance, from soft skills to root cause analyses.
At the OSUIT campus located inside MidAmerica, the 25,000-sq.-ft. training facility is equipped with state-of-the-art technology mirroring that used by industry, so that students are able to enhance their skills through theory, hands-on learning and real world application. The Center also provides both furnished and unfinished space for seminars, meetings and gatherings.
OSUIT's services and courses include:
Testing and assessment programs, including CLEP and WorkKeys.
Courses in:

Electrical and Electronic Technology
Engineering Graphics / Design Drafting
Manufacturing Technologies
MidAmerica Industrial Park has an on-site regional business jet airport with 24 hour self-service fueling stations.
Google Plans to Expand Data Center in Oklahoma
Google is planning to open another four-story data center in Oklahoma, bringing the company's total investment in the state to at least $2.5 billion. The company recently announced plans…
MidAmerica's Recent and Future Developments Prepare for Industry 4.0
MidAmerica Industrial Park is investing $18.5 million in infrastructure improvements to ensure the property is ready for new businesses. Officials at MidAmerica are preparing for the opportunities America's fourth…