Fat Toad opens expanded brewery, brewpub at The District
02/11/2022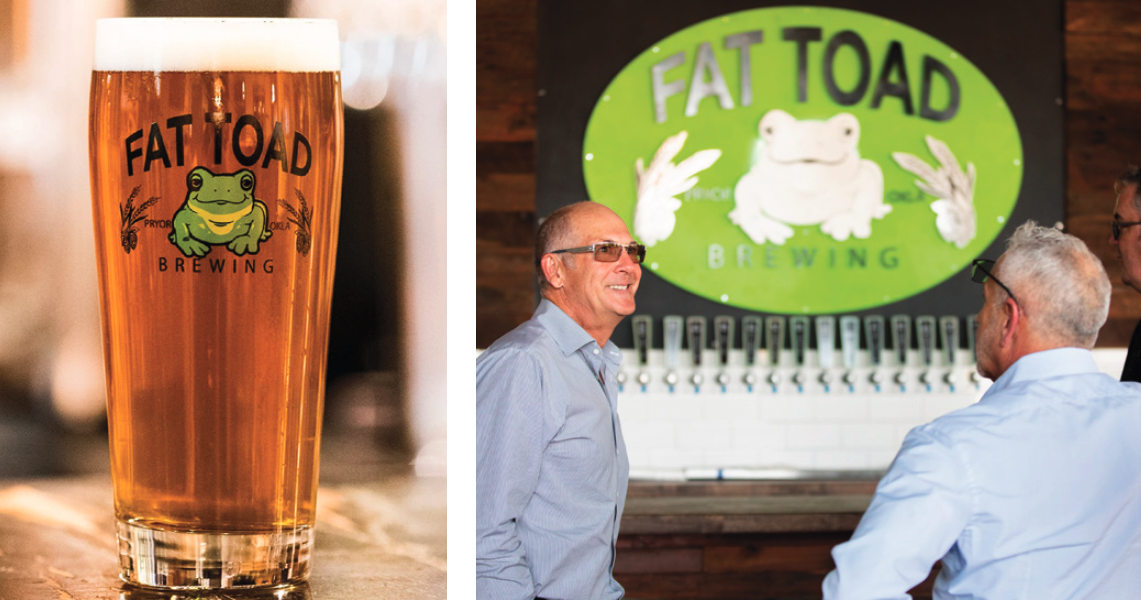 Pryor's Fat Toad Brewing Co. opened its expanded brewery and brewpub in late September, making it The District's anchor tenant. MidAmerica Industrial Park approached Fat Toad about being the anchor tenant at The District, knowing they'd be a perfect fit for the community and Park employees.
"We were lucky to have MidAmerica approach us to come to The District," said Dave Miller, co-owner of Fat Toad. "They wanted us to be one of the anchor tenants, but requested we have food. So, we decided to go all-in and upgrade our brewery from a one-barrel system to a 15-barrel brew system and include a wood-fire pizza oven so guests can get craft beer and authentic, Italian wood fire pizza."
"Having Fat Toad as our anchor tenant is a win-win," said David Stewart, chief administrative officer at MidAmerica. "The owners of Fat Toad were able to expand their business without having to raise capital and look for investors, and we are able to offer a place for Park employees and their families to gather for great food and drinks."
For three years Dave Miller has worked with his neighbor and partner Chris Harrison, initially in their garage, then at a brewery a quarter-mile from the new location at The District. Together with their wives, they dreamed of opening a brewery together. Breweries can serve as a place for family and friends to gather, and the businesses at MidAmerica draw many out-of-towners.
"It's really a neat thing because we meet people from around the country that we never would have met otherwise. (Visitors) immediately do what I used to do, which is look up where breweries or wineries are," Miller said. "There's a lot of people we get in that regard, but we also get people that travel in from Kansas and Arkansas and the northeastern part of the state. This is in addition to our locals, which is our base. It's really fun to see all these different groups come together over beer, pizza and friendship."
Fat Toad offers a variety of beer styles, but has a particular passion for Belgium beers.
"We have a Whitbier and a Saison, among others, and a Belgium pale ale, but we're also current with the hazy IPA craze. Chris and I are passionate about throwing them, whatever flavors we can draw out of that beer and share with people who may not have tried that here locally," Miller said.
On the food side, Fat Toad has two chefs, Dustin Stewert and Danny Morrison, who have done their testing and research for the perfect pizza dough and making nachos in a 600-plus-degree oven.
"Craft pizza and craft beer — it's hard to beat that combination and there's really nothing like handmade dough and house-made sauce. The oven runs at 600-700 degrees so it's a fast turnaround," Miller said.
Fat Toad fits in perfectly at The District where there is plenty of space for outdoor activities and the goal is to create a positive quality of life for Park employees. The large outdoor area is covered with sun sails—it's a great place to enjoy the company of family and friends and even play a game of cornhole.
As far as the brewery's name, Fat Toad wanted something recognizable, fun, and would make people smile. Dave's wife, Angela, came up with it.
"It's just a happy, happy guy on that logo that makes people smile and makes us smile and makes you want to come visit us," Miller said.
Fat Toad is only a 40-minute drive from Tulsa, most of it is highway. It's a great way to get out of town, enjoy a short road trip with the family and see MidAmerica Industrial Park and The District. True to their slogan of "friends, family, community," Fat Toad has made their new location a welcoming place to have a pint and a pizza.