Living, Leisure & Quality of Life
10/07/2020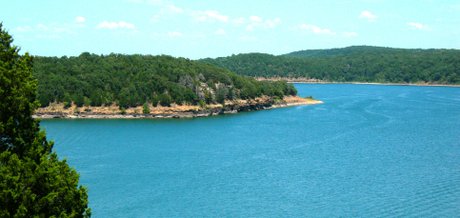 With the grand opening of The District right around the corner, some may wonder what it's like to not only work at MidAmerica Industrial Park, but what's it like to live here? Where can I relax? What will I do on the weekends? How is the quality of life?
What better way to answer those questions than to hear from people who relocated to Northeast Oklahoma to work at the Park. These aren't people who were born and raised in the area, these are individuals who uprooted themselves from the lives they knew to work at MidAmerica.
MARIA SAUCEDO
Compliance Manager | Grand River Energy Center
Maria Saucedo is an environmental engineer for GRDA at their Grand River Energy Center located in the Park. She relocated from Kansas to Oklahoma in December of 2017. She moved from the comfort of an 18-year career with her previous employer and said the experience wasn't easy and was further complicated when she and her husband decided to let their children finish their current school year in Kansas.
"This was a tough move for us. We were established in Kansas and had a great life, but we were also drawn to the job opportunity in Oklahoma," Maria said. "However, the hospitality of the GRDA and MidAmerica staff, the community and the businesses in Pryor really made the transition seamless. On top of that, I've really come to love Oklahoma. The weather is way better than Kansas and more bearable than Texas. I get to visit my family in Texas more often and they too love to come to visit me in Oklahoma. I'm thankful I made the choice to move here and am very excited for the all the changes happening at MidAmerica and in Pryor."
ASIF HOQUE
Generation Engineer | Grand River Energy Center
Asif relocated to Pryor in October of 2019 to work at GRDA as an engineer. He made a major career change when he left his engineering faculty position at Oklahoma State University to take the job at GRDA.
"Leaving my job at OSU was not an easy decision," said Asif. "But, the staff at GRDA and MidAmerica really made the process smooth for me and and I have never once regretted my decision."
When asked about life in Pryor Asif said he really enjoys Northeastern Oklahoma. "I visit Lake Hudson and Lake Spavinaw often and make the short drive to Tulsa to meet up with friends about once a week. I'm so thankful I made the choice to move here and can't wait to see The District come to fruition this fall."
JASON STEWARD
Quality Control & Quality Assurance Supervisor | RAE Corporation
Jason Steward is a true Oklahoma transplant. After 20 years of honorable services in the United States Air Force, he relocated to Oklahoma to work for RAE Corporation.
"I joined the United States Air Force in 1996 where I began a life journey around the country. I met Serena, my wife of 20 years in Montana. There we had 3 handsome boys: Braydun (20), Denver (16) and Ryan (13). While in Montana, I worked on ICBM, Intercontinental Ballistic Missile, power and HVAC systems. After 11 years in Montana I was re-assigned to Cape Canaveral Florida to work quality within the Space Launch Program at Kennedy Space Center. I retired from the Air Force in 2016," Jason said.
"I now work as the Quality Control/Quality Assurance Supervisor for RAE Corporation in MidAmerica Industrial Park and have been employed with them since late 2016. RAE Corp is an amazing company to work for and I am happy to say I found a new family when I was hired on. I love the peacefulness of the area, especially Lake Hudson where our family spends a lot of time relaxing in the Oklahoma sun. We are excited about The District and the opportunities it could potentially bring to Pryor, the Park and Mayes County."
EDDIE PUCKETT, JR
HR-Recruiting, Onboarding, and Retention Specialist | RAE Corporation
Eddie Puckett, Jr. may not have relocated from a different state, but the Bixby native began his career at RAE Corporation in May of 2018 and he made the decision to move to Pryor instead of commuting. Eddie was a little nervous about the move, but it ended up being a great decision.
"Initially, I was pretty hesitant about moving to what I considered "small-town" Oklahoma. Bixby to Pryor may not be a long distance, but honestly, it seemed like another world to me," Eddie said. "After just a few short weeks of getting to know the town and the staff at RAE, I began to enjoy the simplicity of it all. Tulsa is an easy, short drive, and there are several lakes and parks around Pryor that I enjoy. I recently discovered the magic of soaking in local creeks and fell in love with the experience. I am excited to be a part of MidAmerica and this small town that is rapidly growing."