Local Artist Matthew Moffett and MidAmerica Industrial Park Partner to Create Scissor-tailed Flycatcher for The District
10/07/2020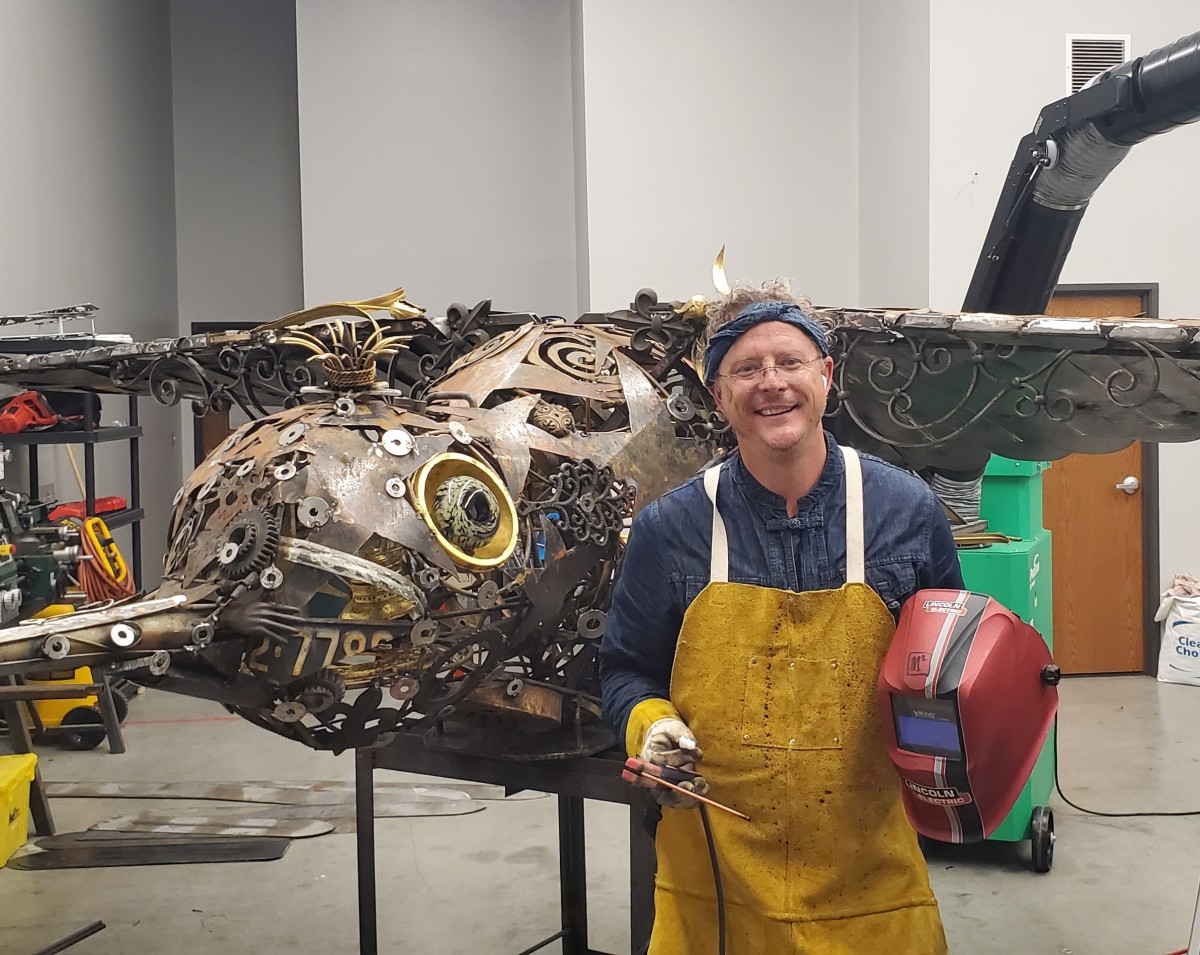 MidAmerica Industrial Park partnered with Tulsa-based artist Matthew Moffett to create an elaborate, beautiful piece of art that MidAmerica will feature in the center of The District's main gathering area. The artwork is a large metal sculpture formed as a scissor-tailed flycatcher, the state bird of Oklahoma. The idea for the piece stemmed from David Stewart's vision of connecting a state icon to the local history of MidAmerica and northeast Oklahoma.
"The team at MidAmerica expressed interest in a large sculpture of our state bird and asked for a sketch of what I would create," said Moffett. "When I was doing the initial sketches for the Scissor-tailed Fly Catcher sculpture, I wanted to represent the history of MidAmerica and land it sits on. I learned that the land was once primarily farmland so I incorporated some historical pieces into the sketch."
"Once they gave me the green light to create the piece, I began collecting tractor parts and other historical industrial items. I found railroad lanterns, antique Oklahoma license plates and a 100-year-old copper eagle weather vane—along with many other things. All the pieces are securely welded within the sculpture and add to the visual interest of the piece."
The majority of the piece was completed in Moffett's Tulsa-based studio, M2 Studio. Moffett utilized the Mayes County First Robotics team's fabrication shop on MidAmerica's campus to put the final touches on the piece. Moffett used the Center's plasma cutter to cut out the wings and welding machines to secure everything together. He collaborated with Thirty-Machine, a company located in the COE, who assisted him with manufacturing structures to hold the piece while he worked on it.
MidAmerica's General Manager John Schaffitzel went to Owasso High School with Moffett and they have stayed connected over the years. Schaffitzel helped bridge the connection and get the piece started.
"John was always a BMX bike racer and a great guy! I was really honored when he called me about creating outdoor art for The District," Moffett said. "It's cool when you creatively collaborate with someone you have known your whole life."
The Center of Excellence, where the Scissor-tailed Fly Catcher was completed, is a space dedicated to technology, training and career opportunities. It provides access to advanced technology to assist its companies with research and development and product development.
Since opening in February of this year, the space has primarily been used to meet the workforce training and development needs of companies located within MidAmerica Industrial Park, for job seekers visiting Action Group Staffing and Mayes County FIRST Robotics team / Pryor High School's Advanced Manufacturing program.
"The Scissor-tailed Fly Catcher sculpture will certainly be a central point of interest at The District," said David Stewart. "People will be amazed at the intricate detail of the art and will be able to spend several minutes just working their way around the sculpture pointing out the various parts and pieces. In fact, I bet they will notice something new each time they come back. We appreciate Matt's work and look forward to seeing it in place once it is finished."

---

Matt Moffett is a self-taught artist that primarily practices his artistic talents through painting. He was raised in the Bay Area of California and Owasso, Oklahoma. He attended The University of Tulsa and their international campus in Malaga, Spain.
Moffett owns M2 Studio, located in Tulsa. He created the studio when one of his dogs died suddenly of a brain aneurysm. He searched for someone to create a portrait of his dog, but found very few artists willing to do so at a reasonable cost. Instead, Moffett decided to take a talent encouraged by his artistic mother and try to paint his dogs himself. The first portraits were quite interpretive, but his friends were supportive and loved the idea.
Since then, Moffett has painted several of his friends' dogs plus many others. Now his passion is to honor and commemorate people's pets through art in addition to working on several other forms of art. MidAmerica is particularly thankful for his talent and excited to feature his work at The District.