MAIP COMPANY HIGHLIGHT: Brent Electric
05/03/2021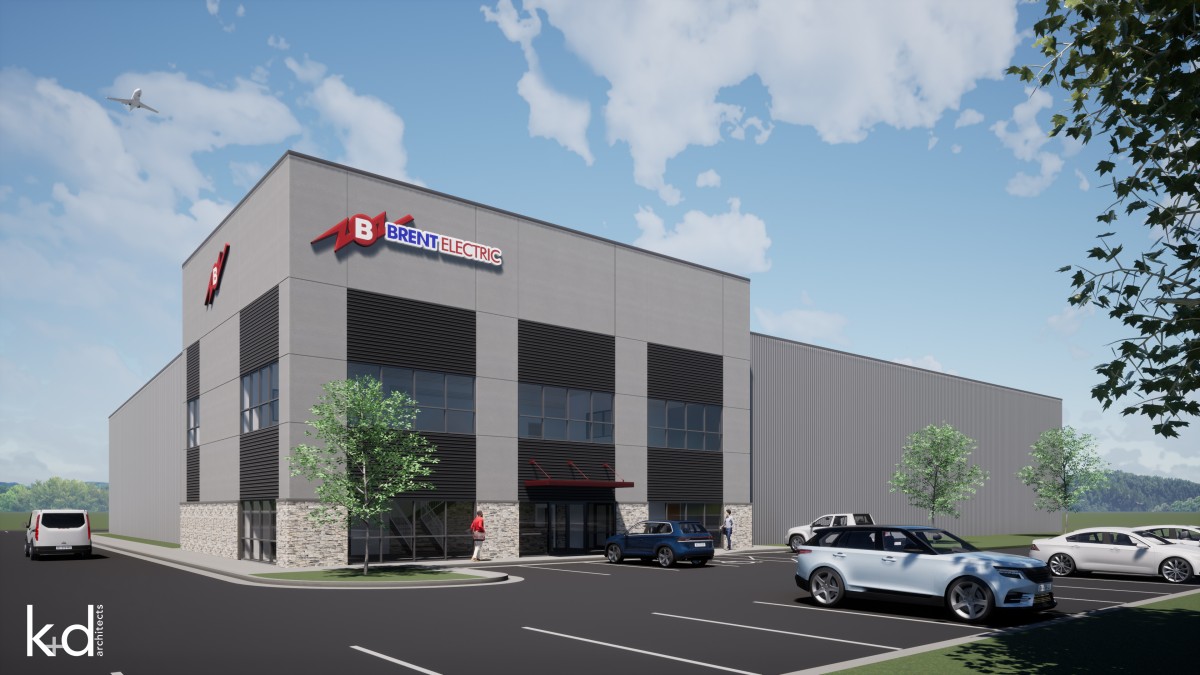 Brent Electric, an industrial, commercial and residential electrical company located within MidAmerica Industrial Park, has seen steady growth—even in the midst of a pandemic—since the company was established by Gene and Patsy Brent in February of 1996.
While working a steady and comfortable job at Ralston Purina, Gene Brent developed an idea, more a passion, to open his own electrical shop. He expressed his idea to his team at Purina and much to his surprise, they said they'd support him. So, Gene and his wife Patsy set out on a journey to start their own business out of their home in Chouteau, Okla.—Ralston Purina was their first client. Within 6 months, Brent grew to a crew of eight employees.
By 2001, Brent had grown its client base to a point where a larger office and warehouse was needed. At that point, they talked to the staff at MidAmerica Industrial Park and made the move to the Park. They are still in their original building, but their growth has led to a much-needed facility expansion, growing out of their 3,750 square foot facility located on a half of an acre. They're currently expanding to 10,000 square feet with a new office complex and warehouse on approximately 3 acres of land. Additionally, Brent has the option of an additional 10,000 square feet of warehouse and fabrication space.
"What's unique, and frankly incredible, about Brent Electric, is their ability to sustain business—and even grow—through leadership changes," said David Stewart, Chief Administrative Officer at MidAmerica. "Changing ownership is never easy on a business, its customers, or its employees, but Brent did it flawlessly."
In 2017 Brent Electric was purchased by Greg and Terri Logan when Gene and Patsy decided to retire. At that time, Brent had 24 employees.
"Retirement was a tough decision for Patsy and me—we put our heart and soul into this business and did not want to see the doors close," said Brent's founder Gene Brent. "The relationships we had built over the years, both with our clients and employees, were very important to us and we wanted to find a way to keep Brent operating. That's when we learned about Greg, a long-time friend of ours, leaving his job at the time. Greg and Terri were a perfect fit for buying the business. They share the same values as Patsy and me and have a strong work ethic."
Brent's client list perfectly reflects their success and growth as a company. They are the electrical contractor and/or supplier of more than 40-50 businesses across Oklahoma, Texas, Arkansas, Missouri and Kansas. Brent is at the forefront of the electrical industry implementing electrical practices such as employee safety training (90% of employees have OSHA30 certification), tools to increase productivity and minimize the potential for injury and utilizing scheduling and Earned Value Management Systems on our larger projects. All of these items help us keep the clients' projects on budget and schedule.
"Here at Brent, our primary mission is to serve our clients," said Brent Electric owner Greg Logan. "We do this by offering the best services, products and resources available. Whether clients are building a new facility, looking for onsite maintenance, or just need electrical design assistance, we're here to serve."