MidAmeria's Center of Excellence set to open February 2020
12/16/2019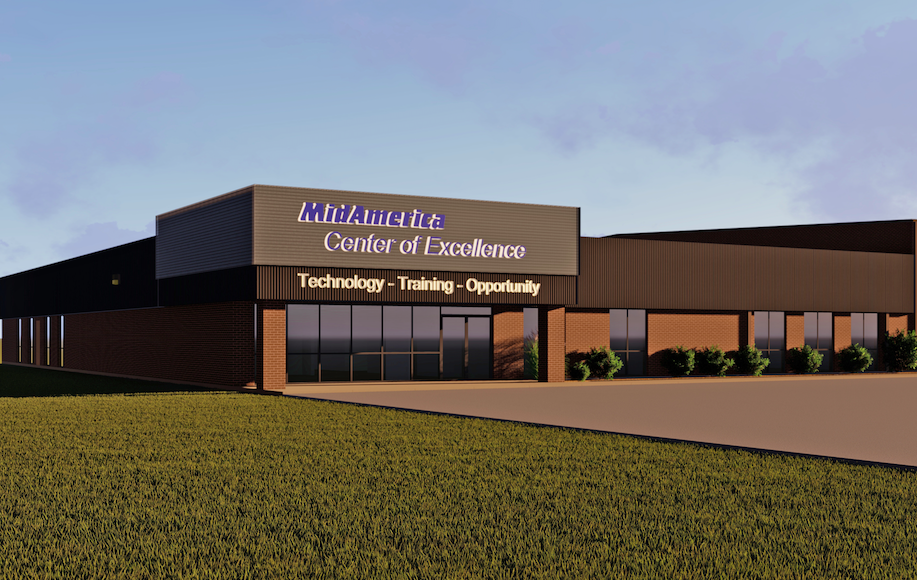 MidAmerica Industrial Park is set up to open its new workforce Center of Excellence on February 25, 2020. The Center, a space dedicated to technology, training and career opportunities, is the product of a vision cast in 2018 after Oklahoma State University Institute of Technology closed its doors to their technology campus located at MidAmerica.
The OSUIT campus provided technology training in industrial maintenance, automation, instrumentation and process control, and maintained a machine shop. The closure created a gap in training that MidAmerica employers need for technically-skilled workers.
That's where MidAmerica's workforce development team comes in. They knew the gap needed to be filled. "Instead of viewing the closure as an unfortunate circumstance, we saw it as an opportunity to do things differently," said Scott Fry, MAIP Director of Workforce Development. "We immediately took steps to implement a plan that would ensure that MAIP employers still have access to high-quality technical training…and more."
Thus, the vision for MidAmerica's Center of Excellence was born. MAIP already owned the facility and had multiple strategic partnerships in place that would be leveraged to build the foundation of the new concept. MidAmerica took the approach of a multi-tenant facility instead of working with a singular entity. "We wanted a consortium model that leveraged the expertise of our partners that, when working together, created a tailored approach to workforce development," said Dave Stewart, MidAmerica CAO.
Step 1: Create an Industrial Maintenance Technology training program
MidAmerica approached Northeast Tech's business and industry team to assist with the creation of an Industrial Maintenance Technology training program. Subject matter experts from twelve different MidAmerica companies formed an advisory group to create the new curriculum. The curriculum was built to serve the needs of multiple employers, regardless of their process, product or service. During the advisory process, it was also decided to include a Department of Labor Registered Apprenticeship option which was established as a consortium which any MAIP company could sign onto. The training was launched in August 2018 and has had tremendous success to date.
Step 2: Partner with Action Group Staffing
Twenty percent of the workforce at MidAmerica are employed through a staffing agency, More often than not, these workers begin in entry-level positions. MAIP was interested in a partnership with a staffing agency when Action Group Staffing reached out looking for space to open a new office. Another strategic partnership was formed and AGS is the anchor tenant in the Center. The concept is to positively influence those currently in entry-level positions by creating opportunities for growth and promotion through continued training and development. AGS has proven to be an excellent partner providing employment services for high school students in internships and implementing innovative staffing solutions, such as the fair chance re-entry program.
Step 3: Implement Advanced Manufacturing Program
In creating the Center of Excellence, MidAmerica also wanted to implement an advanced manufacturing program aimed at educating and training workers on high-end manufacturing technology and processes. To do this, MidAmerica formed a strategic partnership with Cherokee Nation Aerospace and Defense and applied for, and received, a USDA grant that assisted in the procurement of equipment for the space (see sidebar). The Advanced Manufacturing Program will provide education and training but will also be accessible to MAIP tenants to access the equipment for research and development purposes.
Step 4: Create opportunities for area youth
The facility has been the home of the Mayes County First Robotics team since its formation in 2015. The team has had great success since its inception, serving 25-30 students each season from five area school districts. In the Center of Excellence, McRobo has access to additional space for a playing field they use to practice with their robot, invite other area teams to scrimmage and use as a certification center for area teams. This concept will provide additional exposure to area high school students.
Step 5: Partner with Pryor Public Schools on a pilot program
MAIP is also partnering with Pryor Public Schools on a pilot program where selected students spend two and a half hours of the school day at the Center. Students are developing a variety of manufacturing-related skillsets including computer-aided design, CNC machining, 3D printing and how to use quality measurement tools, including a coordinate measurement machine. The plan is to expand the program for the following school year in order to serve more students.
While the Center is scheduled for its grand opening on February 25, 2020, it is already buzzing with activity on a daily basis. "We are very excited about what the future holds for the new center and the careers that it will impact for local workers," said Dave Stewart. "We will continue to create high-end training programs and form strategic partnerships to further strengthen the opportunities at the Center."