MidAmerica Celebrates 60th Anniversary and Opens First Phase of The District
02/11/2022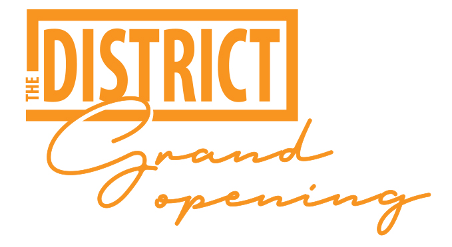 An anniversary isn't complete without a celebration, so MidAmerica Industrial Park celebrated its 60th year of growing businesses and employment in Northeast Oklahoma by officially opening Phase I of 'The District' in late July. The 162-acre development incorporates retail, residential, parks and trails near the State of Oklahoma's largest employment center located in Pryor. The District project is a strategic component in a three-part MidAmerica master plan which includes ongoing capital investments in workforce, infrastructure and quality of life initiatives.
"In today's economic development market, the evolution of an industrial park into a multi-faceted employment center is a cornerstone to inclusive growth in jobs and people. Like any business, an organization must continuously evolve, not only to remain relevant, but also to surpass the competition," MidAmerica CEO David Stewart said. "We have 60 years of experience in delivering what our companies need to succeed. Without the generations of hard work behind us, we would not be considered the competitive, top-tier site location for mega employers for which we are known."
Nearly 80 years ago, the United States acquired 16,000 acres of land between the towns of Pryor Creek and Chouteau and built a munition plant to support the Nation's efforts during World War II. After the war was over, a state beneficiary trust was formed to purchase the property from the federal government for $1.7 million. At the end of 1960, Oklahoma Ordinance Works Authority was created and became known as the MidAmerica Industrial Park.
Doug Harris, CEO of HE&M Saw, has seen the transformation of MAIP firsthand. His family moved the company from California to the Park in 1976.
"What an incredible ride," said Harris of MAIP, now the eighth-largest industrial park on the planet. "I was very fortunate to be around when the boom was happening in Silicon Valley. I saw Dave's vision of what we can be here. It's absolutely unbelievable to see the trajectory of where this is going."
Last month, MidAmerica announced its newest mega-employer, Canoo, which joins 80 companies including Fortune 500 leaders such as Google and Chevron. MidAmerica has an employment base of more than 4,500 in different and diverse industry segments, generating $732,200,000 in wages and salaries each year.
"MidAmerica Industrial Park is the perfect example of how private enterprise is proactively shaping the economic future of Oklahoma through quality jobs and enhancing the quality of life for all citizens," said Lt. Governor Matt Pinnell, who attended the celebration. "As the economy continues to recover and prosper, employers like the 80 located here at MidAmerica, are helping to positively boost the vitality of our region. Oklahoma is well-positioned for sustainable, balanced and equitable growth."

"As we aggressively pursue opportunities to recruit new employers, we must equally pursue new employees to move here," Stewart said. "We know that demographics of all ages and education are drawn to areas that provide the amenities of a big city, but with the affordability and convenience of a community. The District will support our employee recruitment efforts by providing new options in entertainment and residential living so workers may live and raise a family here. We are well-positioned to provide families access to a great school system, relevant and affordable skills training, reasonably-priced real estate and a great place to work."
The District broke ground in 2018 and is a fusion of walkable retail areas and residential living combined with a natural environment that offers wide open spaces and outdoor activity. The completion of Phase 1 includes 32,000 square feet of retail space with anchors Fat Toad Brewery, Red Crown Credit Union and The Bunker event center. Tulsa-based artist, Matt Moffett of M2 Studios created exclusive artwork for The District including six mosaic columns showcasing authentic Cherokee patterns and a statue of Oklahoma's state bird, the scissor-tail flycatcher greets visitors near the courtyard. Phase I of The District was designed by Cyntergy and built by Crossland Construction.
In August, The District's Phase II will break ground on 503 West, a 300-unit, multi-story living complex with amenities such as a park area, swimming pool, fitness center and basketball court. Planning for Phase III is expected to commence with a master-planned community for 100 residential homes, 10 acres of parks and outdoor spaces, which all connect via walking and biking trail systems.
"Experts will tell you, the "sense of place" is more important than ever as a key to success. We are now showcasing 'life in our neck of the woods' as an informational campaign as we want citizens and workers to enjoy their weekdays, weeknights, and weekends right here," Stewart said. "Located in the heart of the Cherokee Nation, MidAmerica is integrated into the great outdoors, surrounded by lakes and streams with Northwest Arkansas and Bentonville to the east and Tulsa to the west. We offer the best of both worlds, urban and rural."
"Investing in quality of life initiatives, like MidAmerica's The District and the BMX track and GRDA's investments on Grand Lake, the Scenic Rivers and the WOKA Whitewater Park, brings even more visibility to the State of Oklahoma by creating authentic destinations and experiences for both visitors and citizens," added Pinnell.
Major initiatives on MidAmerica's master plan include:
Investing more than $15 million in education and workforce development programs, such as MidAmerica Delivers, a comprehensive strategy which serves as the best practices model for the State of Oklahoma, the MidAmerica Center of Excellence, which serves as a one-stop career center and provides direction to applicants on training resources to achieve the skills needed for available jobs at MidAmerica employers, and top-tier STEM education labs donated to 18 schools throughout Northeast Oklahoma to proactively recruit students to consider STEM-related jobs at MidAmerica.
Investing $12 million in quality-of-life enhancements such as the grand opening of The District's Phase I, a trail system to connect with the park and building the Mayes County BMX bicycle track in partnership with the USA BMX Foundation to support STEM initiatives in local schools.
Investing $20 million in infrastructure improvements to build new roads and water systems which opens greenfield sites for new development. An additional $50 million in investment is currently in planning stages for new access to MidAmerica from Highway 412 and more.
"These investments mean MidAmerica is well-prepared for a major growth trajectory for many more decades," Stewart said. "MidAmerica is already seeing the results of our investment in new and renewed interest by site-location consultants from around the world."