MidAmerica Company Highlight: TACK Designs – Big hearts, big brands, lead to big business
12/16/2019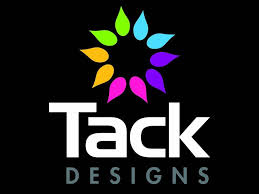 TACK Designs, one of Oklahoma's largest screen-printing companies and located in MidAmerica Industrial Park, has seen exponential growth since moving its business to Park in 2015.
Starting with 10 employees and one press line, in 2015 TACK was printing 1,000 to 1,500 shirts per week. Today, TACK has 35 employees (that's a 350% growth rate), five press lines and now prints 15,000 to 20,000 shirts per week. Their growth has led to much-needed facility expansion, growing out of their 9,000 square foot facility located on a half-acre. They're currently expanding to 26,000 square feet with a new office complex and warehouse on more than three acres of land.
Their client list perfectly showcases TACK's success and growth. They do screen printing for national brands such as Bass Pro Shops and Cabela's—over 300 stores nationwide; the Oklahoma City Thunder; Meijer, a Midwest supermarket chain with over 200 stores; Gameday Couture, a booming business based out of Jenks, Okla. that was featured and funded on the hit TV show Shark Tank; and amusement park owner Herschend Family Entertainment, the owner of Silver Dollar City.
TACK is at the forefront of the screen-printing industry by purchasing and implementing the newest state of the art technology to help increase production. They've also added two additional revenue lines through their "Value-Added Services Department" where they now bag, tag and fold products; and their "Fulfillment Department" where they manage all of the handling logistics of receiving and shipping goods for their clients.
In addition to servicing national brands, TACK services Northeast Oklahoma businesses, churches, schools and organizations, including MidAmerica Industrial Park. Through this facet, the company sponsors local athletic teams, events, runs, and other community initiatives. TACK is in the process of launching an initiative called "TACK Gives Back" where employees will have the opportunity to serve some of the charities and organizations, they have the privilege of working with.
"We recognize how blessed we are and want to give our employees the chance to serve with wonderful ministries and organizations who are truly impacting our world," said TACK owner Todd Fannin.
TACK Designs was founded in 2006 when owners Todd and Aimee Fannin printed their first shirts as a means to raise money to adopt from China. After just one year, the Fannin's raised enough money to adopt Deacon from Hangzhou, China. Three years later, they added Zoe Kate from Hepu, China to their family.
TACK Designs—the name deriving from Todd, Aimee and their two biological children's names, Colter and Kennedy Grace—was run from the Fannin's home from 2006 until 2010. In 2010 TACK hired its first employee and by 2015 they were large enough to move the business to MAIP. Since moving in 2015, they have seen an annual growth of $1.5 million.
Owner Todd Fannin could not say enough good things about his relationship with the staff at MidAmerica. He commented, "The MAIP staff have been tremendous to work with. They initially provided us a cost analysis of doing business in the park versus moving elsewhere. They helped us process how the move could benefit us and genuinely wanted to help us save money. MAIP has allowed us to buy additional land for our second expansion and have bent over backward to help us be successful. Larry Williams and John Schaffitzel have personally acted as our business consultants and I cannot thank them enough for all the time and effort they have put into TACK."
MAIP is proud to have a company like TACK Designs call the Park home. MAIP Assistant General Manager, John Schaffitzel said, "It has been an absolute pleasure working with Todd and Aimee the past four years. I'm thrilled to see the growth they're experiencing, and we will continue to help them in whatever way we can."
TACK Designs recently a clothing line, Zoe Kate Apparel, named after the Fannin's adopted daughter. They donate 20% of proceeds to help families adopt. Zoe Kate Apparel gives back in a way that their loving mission. Learn more about Zoe Kate Apparel at www.shopzoekate.com. To learn more about TACK Design, visit their website at www.tackdesigns.com.