MidAmerica hosts 6th Annual Manufacturing Week
12/16/2019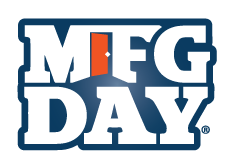 For the past six years, during the first week of October, the MidAmerica team and businesses host Manufacturing Week, a week dedicated to inspiring and recruiting the next generation of manufacturers.
Manufacturing Day addresses common misperceptions about manufacturing by giving manufacturers an opportunity to show, in a coordinated effort, what manufacturing is – and what it isn't. By working together, during and after MFG DAY, manufacturers are addressing the skilled labor shortage they face, connecting with future generations, taking charge of the public image of manufacturing, and ensuring the ongoing prosperity of the whole industry.
This year, Manufacturing Week included students touring companies located in the Park, two hiring events, the first-ever Women in Manufacturing Luncheon, a chili cook-off, and more.
STUDENT TOURS
Over 200 students from surrounding high schools had the opportunity to tour American Castings, RAE Corporation, and Grand River Dam Authority to learn about automation, robots, engineering and more.
CAREER FAIRS
The week also included two career fairs & hiring events focused on manufacturing careers at Action Group Staffing Pryor & Oklahoma Works – Pryor Center – American Job Center.
WOMEN IN MANUFACTURING LUNCHEON
Northeast Tech's Business and Industry team partnered with MidAmerica to host the first Women in Manufacturing Luncheon where over 70 women were in attendance.
ROGERS STATE UNIVERSITY'S 6TH ANNUAL BUSINESS & INDUSTRY CHILI COOKOFF
Businesses and industries completed for the best chili, best presentation and "Dollars for Scholars" awards. This year's winners were: Best Chili went to MidAmerica, Best Presentation and the Dollars for Scholars award went to Cherokee Nation Career Services raising over $5,000 for RSU student scholarships.
6TH ANNUAL MIDAMERICA'S MANUFACTURING AND WORKFORCE DEVELOPMENT AWARDS ­­­
This year's winners include: Partner in Workforce Development – Darryl MacKay of American Castings, Innovation of Workforce Development – Action Group Staffing Pryor and Champion of Workforce Development – Grand River Dam Authority
Chief Administrative Officer of MAIP, David Stewart, said, "It was an honor to host Manufacturing Week for the sixth year in a row right here in our park. Our team and the businesses we work with recognize the impact manufacturing makes not only on our community here in Northeast, Okla., but on our state and our country. We're truly honored to show students, parents and teachers how they can be a part of making all of our futures brighter."
­­
To learn more about the nationally recognized Manufacturing Day visit www.mfgday.com.