MidAmerica Industrial Park announces $1.2 million STEM investment in area school districts
10/12/2016
Source: Andrea Eger Tulsa World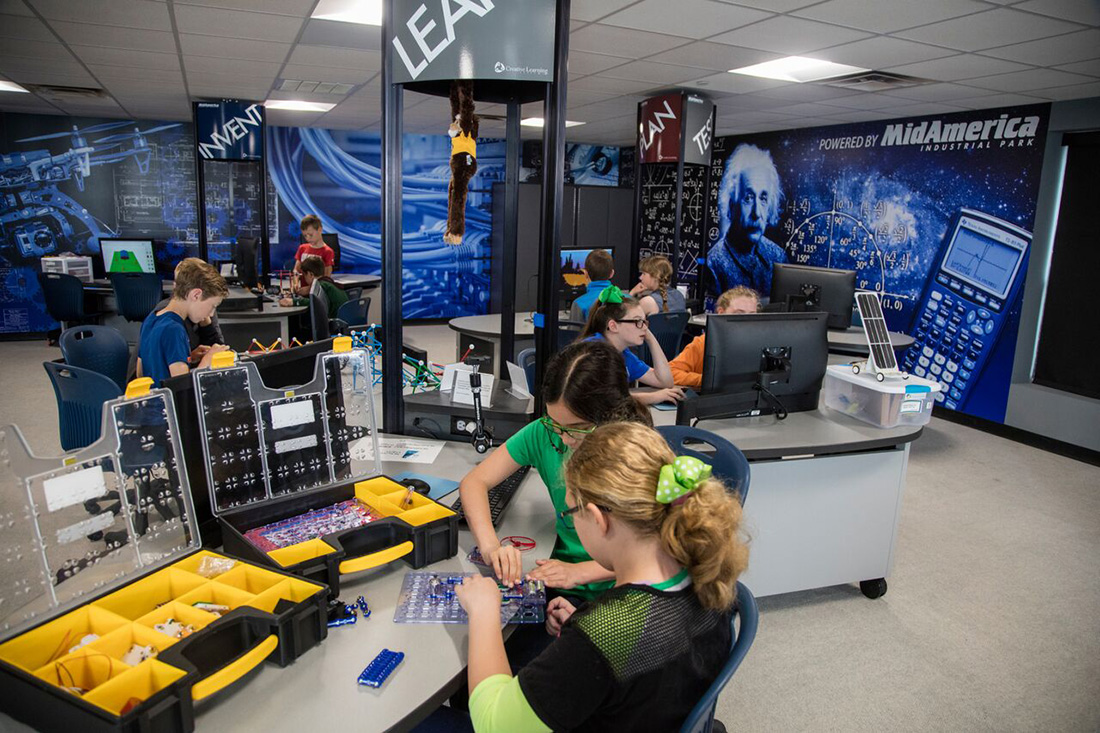 PRYOR — MidAmerica Industrial Park on Monday announced a $1.2 million investment in STEM labs — science, technology, engineering and math — and career centers in all five Mayes County school districts.
The centers are the latest push of MidAmerica Delivers, a workforce development and retention program.
"The recent news by Google announcing another $1 billion in capital investment, along with several other companies at our park making investments in employment and training, was our impetus for starting this program," David Stewart, chief administrative officer of MidAmerica Industrial Park, said at a Monday morning news conference. "We account for more than 4,000 workers in diverse industry sectors, and that number will continue to grow, so we must be able to recruit and retain workers with STEM-oriented skills."
The STEM labs and career centers in Adair, Chouteau-Mazie, Locust Grove, Pryor and Salina school districts will serve to introduce students to technologies and systems in today's job market. The new investment will provide the infrastructure, curriculum and a minimum of five years of maintenance costs for the labs.
"Ultimately, our goal is to create a pipeline of highly trained workers who possess the skills, attitudes and characteristics needed by our employers," Stewart said.
After the news conference, Stewart told the Tulsa World that MidAmerica is also committed to spending another $2.3 million to develop advanced STEM programming for area students, tailored to the variety of employers' needs, in a center located in the industrial park itself.
State Superintendent Joy Hofmeister commended the businesses at MidAmerica for their commitment "not just to talk the talk but really reach into resources" to ensure students have opportunities at home to learn and grow and establish successful careers and lives at home in Oklahoma.
Hofmeister also said the ever-growing partnerships between area business and industry and local schools should serve as an example to others that "STEM shouldn't be a place or an event; it must be a state of mind."
School leaders said MidAmerica worked with each of them to customize the STEM labs to their particular needs or wants.
For example, Pryor Public Schools will use the funds at two of its three elementary schools because it wants to start early in exciting students about science, technology, engineering and math.
"We want to build a pipeline to connect into a junior high Career Tech program in technology that we already have in place," said Pryor Superintendent Don Raleigh.
"We already have robotics for all of our fifth-graders and an after-school program in all elementary schools, plus all five county high schools come together to work on the same robotics team. There's a synergy here you won't find in many other places."
Lori Helton, superintendent at Locust Grove, said her district chose to use the funds to enhance one of three computer labs planned for its brand new high school building.
"We chose a space that really showcases STEM because it has windows on all sides so people can look in there and see all of the exciting things going on," Helton said. "We will have classes in there three to six hours a day beginning in January, depending on the level of student interest. Students are really engaged in this type of learning, so we know we're going in the right direction."