MidAmerica Industrial Park completes Phase II of The District master plan
11/15/2023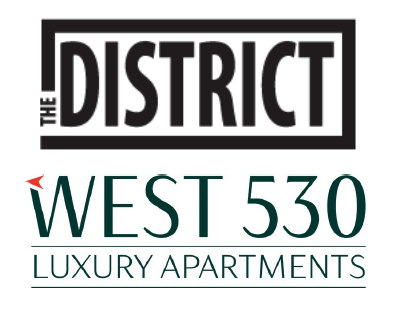 West 530, luxury, multi-family living complex opens today next to Phase I retail center
Officials with MidAmerica Industrial Park officially opened Phase II of 'The District,' a 162- acre development that incorporates retail, residential, parks and trails near the State of Oklahoma's largest employment center in Pryor, Okla.
Phase I of The District opened in July 2021 and included 32,000 square feet of retail and event space. Phase II marks the construction and opening of West 530 luxury apartments and completes a fusion of walkable retail areas and residential living combined with a natural environment that offers wide open spaces and outdoor activity. The multifamily living complex includes amenities such as a park area, swimming pool, fitness center and basketball court.
The District project is a strategic component in a three-part MidAmerica master plan which includes ongoing capital investments in infrastructure, workforce development, and quality of life initiatives. With a considerable critical mass of more than 80 companies and an employment base of more than 4,500 people in different and diverse industry segments, the park generates more than $732 million in wages and salaries each year. It is home to five Fortune 500 companies, including the second-largest Google Data Center in the world.
"Employers at MidAmerica thrive because we provide an "all-of-the-above" approach for infrastructure development, workforce recruitment, and livability initiatives which create a business environment conducive to growth, expansion and profitability," said MidAmerica CEO David Stewart. "The continuity of leadership and conservative, strategic investments by MidAmerica's Board of Trustees have laid the groundwork to prepare our employers, our communities, and the greater Northeast Oklahoma region for substantial job growth."
Planning for Phase III of The District development is complete and includes a master-planned community with 100 residential homes and 10 acres of parks and outdoor spaces, which will all connect via walking and biking trail systems. Groundbreaking is expected in 2024.
"Sense of place and community is a critical deciding factor for workers that also want the amenities of an urban lifestyle. The District will support our employee recruitment efforts by providing new options in entertainment and residential living so workers may live and raise a family here," said Sherry Alexander, vice president of Business Development. "We are well-positioned to provide families access to great school systems, relevant and affordable skills training, reasonably-priced real estate, and a great place to work."
Nearly 80 years ago, the United States acquired 16,000 acres of land between the towns of Pryor Creek and Chouteau and built a munitions plant to support the Nation's efforts during World War II. After the war was over, a state beneficiary trust was formed to purchase the property from the federal government for $1.7 million. At the end of 1960, Oklahoma Ordinance Works Authority was created and became known as the MidAmerica Industrial Park.
MidAmerica Industrial Park is within 300 miles of 10 major metropolitan cities and has a next-day service capability to 23% of the U.S. population. Its transportation, distribution and logistics boasts access to four interstates, on-site Union Pacific rail and switchyard, the nation's most inland water port, and two international airports. Situated on 9,000 acres in Northeast Oklahoma, MidAmerica is the eighth-largest industrial park in the world.
Like any business or community, an organization must continuously evolve, not only to remain relevant but also to surpass the competition," Stewart said. "For the last 10 years, we have methodically invested in projects to prepare for a major growth trajectory. MidAmerica is already seeing the results of our investment in new and renewed interest by site-location consultants from around the world."