MidAmerica Industrial Park presents first ever ice skating rink in Mayes County
12/14/2022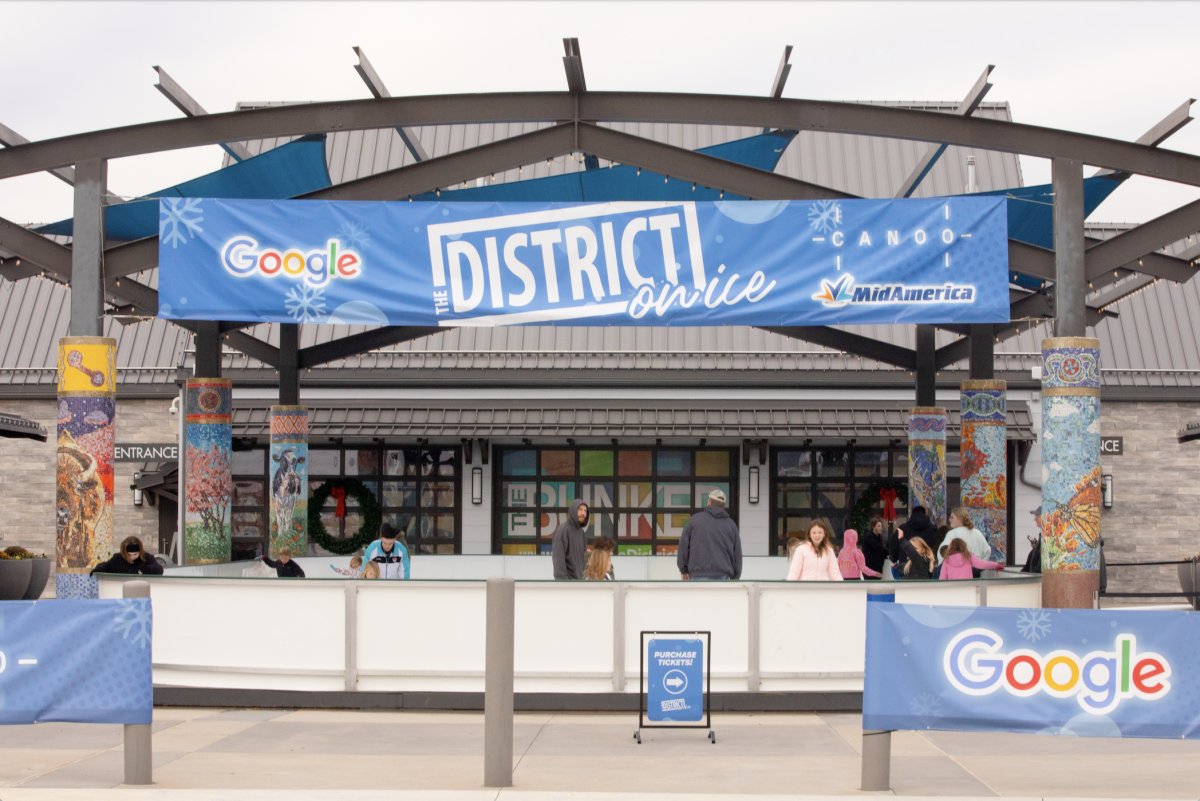 The spectacular winter attraction, District on Ice, opened November 26
This holiday season, MidAmerica Industrial Park unveiled the first ever holiday ice-skating rink in Mayes County. 'District on Ice' features a pop-up real ice rink located at MidAmerica Industrial Park's The District. District on Ice opened on Saturday, November 26 at 5 pm and runs thru December 31, ushering in the holiday season full of festive family fun.
"MidAmerica Industrial Park is thrilled to bring Mayes County's first ever ice-skating rink to our community," said MidAmerica CEO David Stewart. "MidAmerica and its partners' investment in District on Ice made it possible to host a family-friendly winter experience for all our communities. Mayes County has so much to offer and we want to see our communities come together to celebrate the holidays. We hope to make this an annual event families will look forward to—bundle up, bring the kids and make lasting memories."
The pop-up attraction transforms The District into a must-visit winter wonderland and safe community gathering spot for all age groups with interactive experiences. Features include a full-size 95-person capacity recreational outdoor skating rink, skate rentals, free on-site parking, festive music, lighting and décor and delicious food and drinks available at The District businesses.
District On Ice opened at MidAmerica's annual Lights On event in The District. The festive event included photos with Santa and Mrs. Clause, an Olaf ice-skating performance and family-friendly fun for all ages.
"Collaborating with the businesses at MidAmerica has made it possible to bring District on Ice to Mayes County this season," said Sherry Alexander, business development director at MidAmerica. "It has been our intent from MidAmerica's inception to not only attract world-class businesses and provide excellent careers, but to also enrich the lives of those who live in our community. We are privileged to partner with so many who call MidAmerica home to transform The District into a winter wonderland and offer a spectacular event for all. Additionally, we are grateful for MidAmerica Ambassadors, high school volunteers, and community members who are volunteering their time to help make this event a success."
Presented by MidAmerica, District on Ice is brought to you by Google and Canoo. Additional sponsors for the event include HemSaw, RAE Corporation, Red Crown Credit Union, Grand River Dam Authority, Kemp Quarries, Brent Electric, City of Pryor Municipal Utility Board, Tack Design and Premier Signs & Design.
District on Ice will operate through December 31—General admission tickets are $10 for five years old and over. Five and under are free. The tickets include a skate rental and unlimited skate time. Additionally, rental packages, perfect for private parties, are available.