MidAmerica's Center of Excellence partners with OCAST to create STEM internship for high school seniors
02/11/2022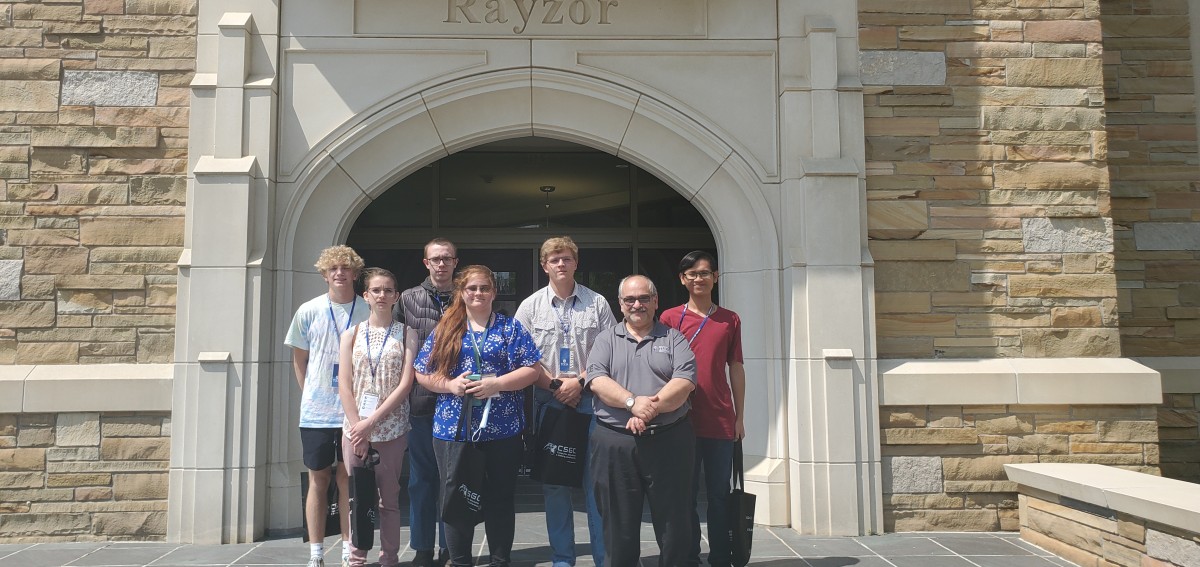 At MidAmerica Industrial Park, STEM education is close to heart—it's what MidAmerica and many of the businesses in the Park do and a core part of sustaining the workforce for current and future businesses. MidAmerica is committed to investing in future talent and one of the recent ways of doing so is through a pilot internship program for local high school students.
In February 2021, the Center of Excellence at MidAmerica Industrial Park and the Oklahoma Center for the Advancement of Science and Technology (OCAST) entered into an agreement to pilot an internship program. The program will measure the viability of a high school level internship program designed to expose selected students to STEM careers and educational pathways. A special emphasis was placed on exposing students to STEM careers available locally with the hope that they consider returning to the community post-graduation.
The internship program participants were recruited with the assistance of area school administrators, counselors and STEM Lab facilitators at Adair, Chouteau, Claremore, Inola, Locust Grove, Pryor and Salina Public Schools. Information was distributed to students who met the minimum qualifications—GPA requirements, plans to attend an in-state school after graduating high school and an expressed interest in a STEM related field of study. Interested students were directed to an online portal to submit a formal application.
The Center of Excellence worked with OCAST to establish a committee to assist with the student selection process. The committee included individuals from MidAmerica, OCAST, Oklahoma Manufacturing Alliance, Oklahoma State University and HE&M Saw. Committee members evaluated applications, interviewed candidates and made final selections.
After the initial evaluation of applications, the committee selected twelve students to interview for the opportunity. Following the interviews, eight students were selected to participate in the program. They committed to a five-week, 24 hours a week summer internship experience.
During the five-week internship, students interacted with a variety of STEM technologies and their applications in particular industries. The experiences were coupled with industry and college visits intended to help the students understand career and educational pathway options that align with their interests and post-secondary plans.
The summer portion of the program exposed students to multiple STEM related topics from Computer Aided Design to Project Management which prepared them for the second phase of the program which is currently underway. It is a project-based approach to solving a real-world problem working with a local company.
The eight interns are collaborating with Angler Nation, a regional bass fishing tournament platform founded by Joe Davis, Test Engineer at Zebco. Students will research, design and apply engineering applications and processes to create a "S.M.A.R.T. Release Tank" designed to relocate impoundment fish and reduce fish mortality rates due to poor catch and release practices at competitive fishing events.
The students are divided into teams based on their career interest and identified strengths. Each team is responsible for specific elements of the overall project. The students will spend 10 to 15 hours per month collaborating on various elements of the project, including additional training opportunities in relevant subjects. Mentoring and program instruction is provided by MidAmerica Industrial Park staff, Northeast Tech instructors, Angler Nation and various subject matter experts. The project is slated to be complete by February, 2022.
Following the summer portion of the program, the students completed a brief survey designed to measure satisfaction and solicit feedback from participants. The students responded positively to the program, saying things like, "Overall I could not be more satisfied with this experience. Having the opportunity to go to the places we visited was amazing."
Another student said, "My experience in this program was not only educational, but changed my future. The technology and industries we explored opened my eyes to the career field I want to be in. This program definitely has and will have huge effects on my life."
MidAmerica's Director of Workforce Development, Scott Fry, was heavily involved in the process and said, "We are very excited to be able to partner with OCAST on this project and are confident that it will prove to be beneficial to participating students and a unique approach to building up the local workforce through a grow your own approach."
Further, OCAST Program Director, Dan Luton, said, "As workforce demands in technology-based sectors continue to grow, we believe programs, such as the Intern Partnership, not only brings awareness to STEM careers in the region, but also increases the workforce pipelines and talent pools. Partnering on this program, our hopes are to help secure and keep talented young professionals at MidAmerica Industrial Park and throughout Northeastern Oklahoma. With a successful partnership at MidAmerica, we hope to mirror the program across the state."
The pilot program will serve two cohorts of students and will run through the summer of 2023.