State of Oklahoma announces Northern Data to build North American Operational Center at MidAmerica Industrial Park
09/08/2022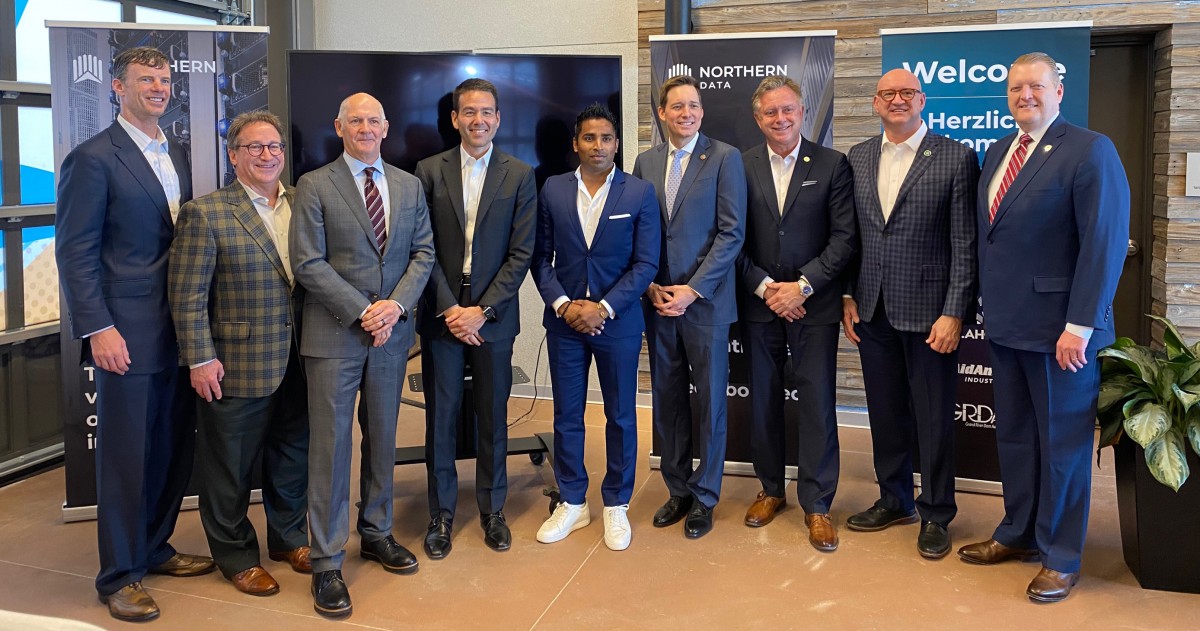 Northern Data to build campus of Tier 3-ready, modular data centers and purchase 250 MW of power from Grand River Dam Authority
Officials with the State of Oklahoma, MidAmerica Industrial Park and Grand River Dam Authority recently announced the successful recruitment and strategic partnership with global tech company, Northern Data. Northern Data will build its North American Operational Center at MidAmerica Industrial Park in Pryor, Okla. and purchase up to 250 megawatts (MW) of power from Grand River Dam Authority.
Northern Data is a publicly-traded company on Xetra with headquarters in Frankfurt, Germany. The company operates 10 data centers globally with more expansion planned for Europe, Canada, and in the United States. The new Northern Data campus at MidAmerica is designed to feature up to 250 MW Tier 3-ready data center infrastructure, serving as a hub for the introduction of value generating High Performance Computing (HPC) data centers.
"We are excited to enter into strategic agreements with our partners of choice in Oklahoma, which marks the beginning of a new chapter of our growth story. The data centers are projected to be online within 24 months and we see these innovative data centers as the cornerstone of our long-term strategy," Northern Data CEO Aroosh Thillainathan said. "Our campus design is going beyond mining, extending to cloud services and even establishing a research lab dedicated to the discovery of future data processing applications. In short, this new alliance promises to be mutually beneficial to both Northern Data and its strategic partners in Oklahoma for years to come."
With a capital investment of approximately $270 million by 2024, Northern Data will enhance Oklahoma's technology resources for businesses seeking access to future, cloud-based HPC capabilities.
"This investment is a considerable win for the Oklahoma Department of Commerce and our efforts to attract another high growth company and partner of choice to the state. We have engaged with many HPC data center companies looking at Oklahoma. Northern Data is different. They have demonstrated a clear "best in class" approach with their proven business model. Their initial investment and plans for significant future growth, along with a strong commitment to being a great corporate partner makes Northern Data an outstanding addition to Oklahoma," Gov. Kevin Stitt said. "Oklahoma is well prepared to compete in the global economy through strategic investments in our infrastructure and assets, like Grand River Dam Authority. Northern Data's selection of Oklahoma further solidifies our growing reputation as a pro-business state ideal for a premier global tech and innovation hub."
"I spent a great deal of time with Northern Data's management team while we traveled to visit their existing HPC operations in Europe and have been incredibly impressed with the quality of their work and the passion with which they are executing on Aroosh's vision," Commerce Sec. Scott Mueller said. "They are executing on a strategic plan built around operating quality data centers that enable true cloud computing services, clearly going beyond providing just cash-rich proof of work for blockchain. Bringing such a high profile technology company to our state is a great boost to our economy and a tremendous opportunity for the Oklahomans they will employ. I look forward to working together closely with the Northern Data team in the years to come."
Initially, more than 150 employees are needed for the new data centers' operations, research and development and administration with many more jobs anticipated in future expansions. The 100-acre campus at MidAmerica is expected to be operational within 24 months.
"MidAmerica Industrial Park will be our North American Operational Campus for our intended business expansion. It offers a central US location and will enable us to significantly scale our operations. Initially, 10 MW is projected to be operational in Q2 2022 with an expansion to 50 MW planned later in the year," Northern Data president and designated CFO Christopher Yoshida said. "We are excited by Oklahoma's pro-business approach. As previously communicated, we plan to significantly scale Bitcoin production and increase our market share in 2022 while at the same time evolving into a Cloud Service Provider. Our focus now is on the execution and delivery on time and on budget. We are thrilled to continue supporting the growth in Oklahoma and look forward to working with state and local leaders on initiatives that can foster job creation and economic opportunity."
"As the eighth largest industrial park in the world, the MidAmerica team provides Northern Data with unparalleled speed-to-market capabilities. Whether it is same-day permit approvals for construction or helping recruit a skilled labor force from across the four-state region, we are a partner in the long-term success of our employers and will provide Northern Data with the fundamentals to successfully scale their business in Oklahoma," MidAmerica CAO David Stewart said.
The Northern Data Tier 3-ready data center in Oklahoma will be built in a modular structure, where each section works as a self-contained system that can be scaled with a quick time to market. The data centers can be customized up to 50 MW per building, allowing each to grow with emerging businesses according to its needs. GRDA is committed to providing up to 250 MW of power monthly, which is equivalent to powering approximately 225,000 homes.
"This partnership with Northern Data is an enormous win for us and the state of Oklahoma. GRDA is committed to mobilizing our substantial resources and delivering 250 MW to Northern Data for scaling their high quality data centers that have made a lasting impression on us until the end of 2024. We are actively working to ensure GRDA is ready to deliver significantly more power within the next five years to help Northern Data in meeting its current and future growth projections," GRDA CEO Daniel Sullivan said. "These long-term power agreements, which are very valuable on the market, provide Northern Data with reliable and competitively priced energy for quick deployment and future expansion and ultimately success."