STEM on showcase for students, teachers at MidAmerica Industrial Park Students
06/26/2017
Source: Stetson Payne, Tulsa World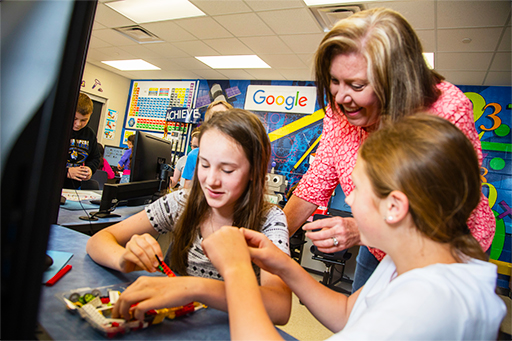 Amid the clatter of hands rifling through bins of Legos, Darryl MacKay walked students through robotics one step at a time. He was hoping for a breakthrough — for the kids he is teaching to grasp each vital step in programming.
By day, MacKay is an automation manager at American Castings in the MidAmerica Industrial Park outside Pryor. But for the MAIP Robotics Camp at Oklahoma State University-IT's industrial park campus, he is working with much smaller robots than during his day job.
It's all aimed at proving to kids that STEM (science, technology, engineering and mathematics) doesn't have to be hard; it also can be fun.
The Robotics Camp was one of two STEM education events at the industrial park this past week. The MidAmerica Industrial Park hosted its 10th annual educator camp at Rogers State University's Pryor campus. The educator camp is designed for teachers to learn about local STEM careers after high school.
MacKay said getting students time to work with hands-on activities like those at the Robotics Camp is important in opening doors for them.
"It gets them interested in a possible career path that they never knew existed," he said. "It also gives a purpose for what they're learning in school.
"When I was in school, I never saw a reason for math. Now I'm in a profession that's 100 percent math, critical and logical thinking."
MacKay is also the president of Mayes County Robotics, a competitive robotics team that includes students from multiple Mayes County school districts. Several of the team's members helped younger kids build and program Lego robots at the camp.
Professionals in the field are not the only ones who see the camp's importance for kids. Bobbie Back has taught at Salina and Locust Grove high schools, and now teaches at Northeast Technology Center.
Back said STEM events not only help expose kids to new careers, they also let them use critical skills they might not practice in a regular classroom.
"When you get them engaged and building something, they see results," Back said. "We had a team that had a terrible time at the beginning, but they persevered and kept trying, they kept going and trying new things.
"It's just a hands-on activity where we hope students are getting more interested in programming."
MAIP also announced Thursday that the state of Oklahoma and the national STEM Funders Network designated Mayes County as a STEM community. It joins more than 50 other STEM ecosystems within the Funders Network.
About 60 area teachers worked in sessions at the educator camp and toured companies at MAIP.
While the teachers didn't get to play with Legos, they did get to build and fly their very own drone and learn how this technology is changing many industry sectors. Educators also participated in a BMX bike STEM program which uses bike to teach a variety of STEM concepts.
Kim and Rodney Rhine both teach at Oologah Public Schools — Rodney high school science and robotics, and Kim fifth-grade language.
Although Rodney Rhine attended college, he said he understands the need for vocational schools and careers available in MAIP. He also holds an aviation maintenance technician certification, and said he wants to see more STEM and vocational skills be incorporated into his classroom.
"Nothing against college, college is great," Rhine said. "There's a place for everybody. But we've kind of pushed everyone into college, and it's not a one-size-fits-all place.
"We need to keep our minds open that other kids have skill sets that are really geared toward technology, and they're the ones who will keep (America) going in the future."