The District Nearly Finished
10/07/2020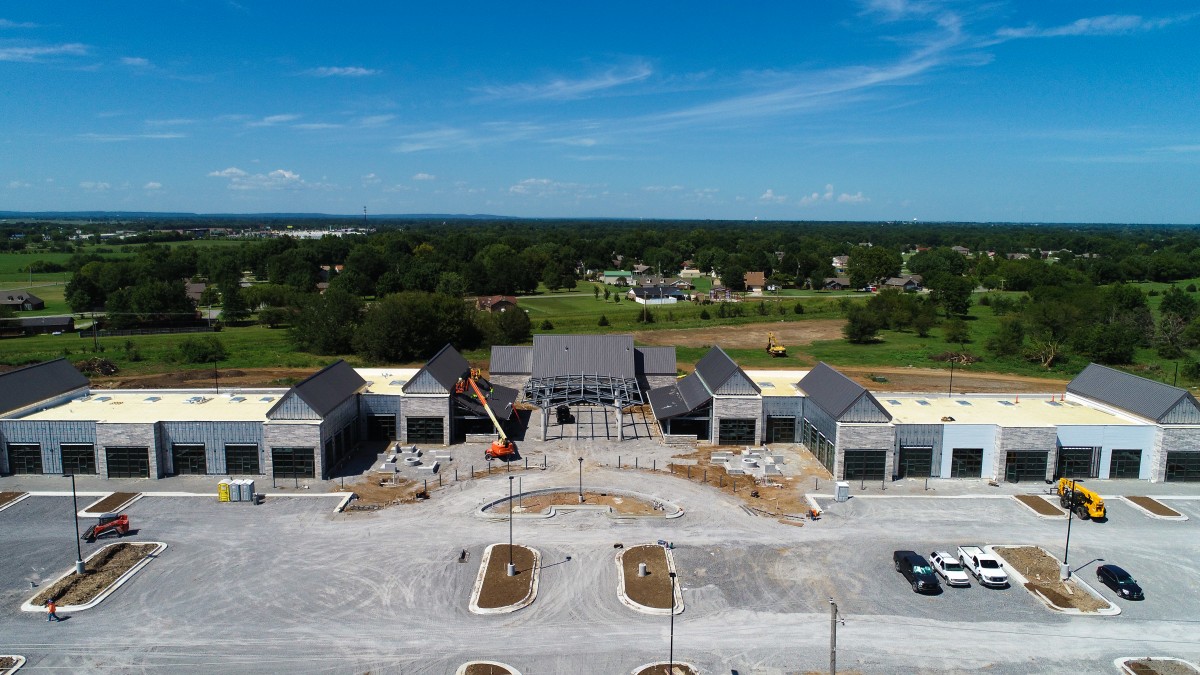 "WE'RE ALMOST THERE!"
These were the words of MidAmerica's Chief Administrative Officer David Stewart when asked about The District.
"The years (literally) of planning and preparation for this incredible development are almost complete. We broke ground two years ago and now we're adding the final touches, giving MidAmerica a 'sense of place.' The District will not only benefit employees and residents, it will make MidAmerica Industrial Park complete."
The District was strategically designed and engineered with MidAmerica employees and regional residents in mind. It benefits the entire community with shops, housing, entertainment, parks, green space and a multi-functional event venue. It's a regional destination that did not exist before.
"With historical architecture, shopping, dining and living options for all, The District is the 'final touch' to our already comprehensive industrial park."
The District is set to have its soft opening in the late fall and grand opening celebration early in the new year. With its website now live, www.lifeatthedistrict.com, tenants filling the retail spaces and contracts signed on many of residential apartments, the vision is truly becoming a reality.

ARCHITECTURE
The District was designed by Cyntergy, a full-service architecture, engineering and construction services firm based in Tulsa. In designing The District, the goal was to incorporate MidAmerica's history, create a "sense of place", and feature a space for people to gather.
The architect set out to encapsulate MidAmerica's rich history, including its development after WWII, in the design. Cyntergy used original wood from existing structures and studied historic photographs for inspiration. This resulted in beautifully designed elements with a nod to the 1940's, including gabled roofs, horizontal cladding and uniquely textured front facades.
Cyntergy strived to create a "sense of place" with intimate building arrangements and familiar textures creating a unique place that is unlike any industrial park.

SHOP AT THE DISTRICT
With 32,000 square feet of retail space in a beautiful outdoor setting, this treasure features attractive storefronts for restaurants, retail and service-based providers. All sites are connected to walking and biking trails.
In mid-June The District's first tenant was announced, a regional favorite originally out of Pryor, Fat Toad Brewing Company. Fat Toad announced they will be growing their business to a 15-barrel brewing capacity system and adding a wood-fired pizza restaurant.
"We opened our brewery about two and a half years ago and the park had been considering doing something out there to attract more people that work at the park, to live in Pryor rather than commute from Tulsa," said Fat Toad co-owner David Miller. "They saw us opening a brewery and thought that's a cool idea and might attract people, so we started talking about it then."
Miller said the brewing system has been ordered and they should be in their new space around November.
He said there's no denying that pizza and beer are a winning combination, so they're excited to bring that offering to the community.
Additional tenants are currently in the contract signing process and will be announced on The District's website as they finalize.

LIVE AT THE DISTRICT
Having a sense of place is a key to success. The District offers the amenities of a big city, but the affordability and convenience of a community. The 100-unit, multi-family complex and 100 single-family homes within walking distance to 10 acres of parks and outdoor spaces linked by walking and biking trails.
The multi-family complex will offer floor-to-ceiling windows with sprawling views of Green Country's rolling hills and open floor plans perfect for entertaining. Exclusive activities and VIP access to The District's venues and events offer a personalized community experience.

CELEBRATE AT THE DISTRICT
As a unique way to serve MidAmerica's businesses and the surrounding community, The District incorporated an event venue into the overall plans. The Bunker, located in the heart of The District, is a space for any event, whether it's family gatherings, small receptions, office parties or corporate meetings.
Cyntergy, the architects behind The District, said The Bunker is an open, high-ceiling area with six overhead doors that can adapt depending on the needs of its guests. It can be a public market, a continuation of the adjacent patio, or a covered concert stage. This creates an exciting experience for visitors because the flexibility allows for spontaneous gatherings, in addition to organized events.
"The District is unlike anything in the area, following current and regional trends. It will create a vibrant atmosphere to draw in people from all around," said Dave. "I am anxiously awaiting its grand opening and just as eager to see it used by people all across Northeast Oklahoma."