The Rise of Relocation | How MidAmerica is capitalizing on relocation trends to recruit new workers to Mayes County
02/11/2022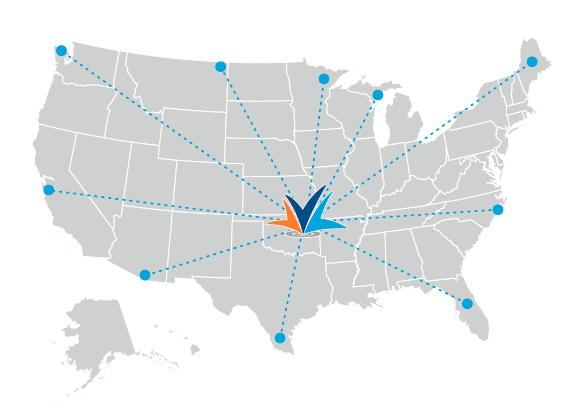 In today's economy, workers are leaving the East Coast and the West Coast not only to find a new job, but to also find a new way of life.
Now, more than ever, the competition for employees is fierce. Cities and States are offering cash incentives for workers to move there. However, national census data shows workers are leaving crowded urban areas to re-evaluate their core values and become a part of a community.
As of November 2021, Mayes County's unemployment rate was measured at 1.9%, which means any citizen who has the ability to work essentially has a job already or is self-employed in our agriculture industry.
Available jobs continue to grow at employers located at MidAmerica Industrial Park, but the population growth within Mayes County has remained static for the last 10 years.
MidAmerica seeks to reverse that trend
"The future of Mayes County depends not only on our ability to create new jobs, but also to create the lifestyle to retain our current workforce and to attract new workers," said MidAmerica CEO David Stewart. "With more than 4,500 workers at MidAmerica, every town across all four corners of Mayes County, has citizens making a life right here in our communities."
A Plan for 'Placemaking'
In anticipation of substantial future growth in jobs, MidAmerica has recently engaged Design Workshop, an award-winning, landscape architectural and planning firm to assist community leaders in Mayes County with creating a long-term strategic plan for quality of life improvements.
"As young workers make decisions to relocate, we know their primary reasons are a desire to own a home, connect to a community, and start a family. These goals are achievable and affordable within the communities of Mayes County. MidAmerica's initial investment in developing a 'Placemaking Plan' will ensure the communities are prepared to successfully meet these needs," Stewart said.
In collaboration with community leaders in Mayes County, the strategic planning process will focus on building capacity for the following:
Attracting and incentivizing new housing development
Improving transportation and infrastructure
Recruiting investments in commercial and mixed-use development
Investing in parks, bike trails, natural resources, and community assets
Contributing to education resources for higher education, tech training and K-12 schools
Concurrently, this process will establish a regional economic development strategy with stakeholders such as Northeast Oklahoma Regional Alliance, Northwest Regional Planning Commission, Oklahoma Works, Grand Gateway Economic Development Association, Northeast Workforce Development Board, Tulsa Regional Chamber, the Cherokee Nation, and regional governments.
"This effort will identify gaps in existing economic development plans to create a comprehensive and compelling vision focused on growing our region," Stewart said.
Marketing 'Life in Our Neck of the Woods'
"The team at MidAmerica is focused every day on how to make our current employers successful by recruiting a quality workforce," Stewart said.
In recent months, MidAmerica launched "Life in Our Neck of the Woods," an investment in a marketing campaign to recruit new workers and citizens to the area.
The campaign includes a comprehensive printed booklet showcasing the regional quality of life assets presented in a "weekends, weekdays and weeknights" theme.
"As new workers consider relocating, affordability is an important decision factor, but not the only one," Stewart said. "Other factors such as access to concerts, museums, sports, bike trails, ballet, shopping, boating, and fishing are equally as important to key factors such as housing, education, transportation, healthcare, and income."
"Life in our Neck of the Woods" also includes an investment in digital marketing. In a recent 30-day period, the campaign reached 115,000 prospective workers across eight key states. The promising results showed a high interest level among a very targeted, highly recruited workforce segment.
Raise them, train them, retain them
For several years now, MidAmerica has achieved great success in developing and executing a workforce development plan for Northeast Oklahoma. In fact, MidAmerica serves as the "best practices" example for the entire state by bringing the needs of industry together with our education and training resources.
"In 2022, approximately 11,800 high school students in Northeast Oklahoma will graduate and move on to the next phase in life. Whether that next phase includes studying a trade or attending a traditional university, we want to be sure that MidAmerica employers have the opportunity to reach these students and recruit them to work here," Stewart said.
With a $2.5 million investment in best-in-class STEM Labs in 18 schools, MidAmerica's high school programs engage with 3,000 students annually. Together with the on-site career and training center and the on-site Rogers State University campus, MidAmerica is providing a direct path from high school to a career with any of our current and future employers.